For Every Airbrush Artist!
Ready to get involved? Register for free and you won't see any google advertising!
Register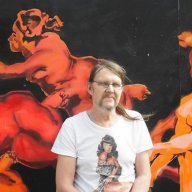 Loading...

Loading...

About

I work different than how most are using an Airbrush.

I don't use Frisket and don't cut on top a foto or a foto copy.
It is my own teknikes you see in my paintings and the Street Art I do in public space. My canvases are most often sketches for bigger pieces, but it also work the other way around. But I more and more focus on the Canvas.

I feel limited with the tradisional method, with Frisket and X-acto knive, in particular that what the tradisional method bring, are more or less a Copy is a fact I wanted to overcome. --- So I had to develop my own methods. I was used to using a profesional pen plotter, so I use that knowleage and the Architect software I know for my Vinyl plotter, but that is just one technike.

I worked as wooden boatsbuilder for many years, was allowed to work in the
Royal Danish Academy of Fine Arts, Had four major projects at Danish Art Workshops, As Computer programmer I Developed advanced Design tools. I now paint. First used Airbrush in 1968, never made Graffiti but have made Street Art for the past 13 years..

Sailed my first boat I totaly rebuild, buying an old Trawler I lived afloat for 30 years, building workshop designing boats and building my own designs. My attitude are most that of a craftsman as I can those things, but my drive are Beauty.

Interact

Loading...