Hi Folks,
I've just had my first major near disaster from dropping my airbrush on the floor! I accidently activated my quick release and my airbrush pinged off on to the floor.
Because I seemed to be regularly bending my needle tips I started to use my crown cap every time I airbrush. Of all the needle caps I have for the Iwata's I find this the best one and today it proved to be my saviour.
The airbrush landed head down and to one side of the crown cap and the only damage was that one of the pronges was slightly bent inwards. The needle would and been severely damaged and the chances are the nozzle too if I'd had no cap on so you can imagine how happy I am !!!!!!!!
So I straightened out the bent prong but when I tried to start painting the airbrush wouldn't work at all, aaaagh! But I quickly noticed that the stopper on the other side of the cup had pinged off. When I eventually found it and put it back in, my Eclipse was spraying as sweet as it ever does.
So, Hooraaaaaaaaaaaaaaaa for the Crown cap. It works like a dream when I airbrush and now it's just saved me wads of cash!!!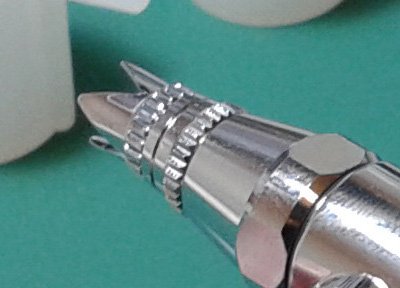 From a very happy Mel