Hello everyone!
Isn't she pretty?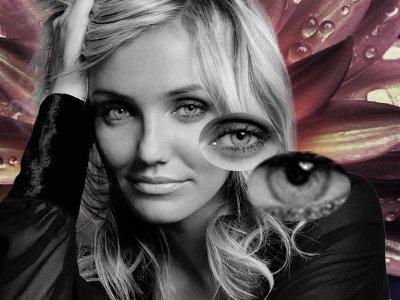 I've chosen this image for it's simplicity of shapes.
What the heck is a shape?
Shapes are the foundation of your artwork, the only way you'll ever achieve a photo-realistic result is through mastering your shapes and learning how to create them with a natural feel. This is done with subtle blends, fades & extensive use of dagger strokes (but we're jumping the gun a little here).
The easiest way for me to define a shape is any 1 or more airbrush effects used to create or 'frame' a (generally) small area of an artwork.
Take a quick look at Cameron's blown up iris - immediately I can decode 4 shapes. Do you see them?
They are the Pupil - a dark round circle, the perimeter of the iris - 1 line on each side and the area in between both these shapes (the iris).
Cameron's face provides some of the easier-to-decode shapes that you'll find in airbrushing, however what you're looking for in particular are groups of effects used to create a portion of the image.
When it comes down to it, the look of your end result is all reliant upon your ability to create natural looking shapes. Shapes don't stop in the foundation of the artwork either, they are carried through and mimicked with airbrush textures or when we are adding different color layers, you may find the shapes change somewhat, however through this thread, I'd like to give people a little insight on how to decode for themselves, allowing people to airbrush absolutely anything they desire!
How are you going to be able to learn?

We'll be setting out various exercises and we'll be asking for your input over the course of a month, the more people to respond the more helpful it is to anyone that ever reads this thread.
By the end of the month (or thread) you should have a much better understanding of how to
attack
an image. Where to start, what to look for, how to decode - what effect to put where, @ what height, angle & opacity!
This will all be done by first learning our new airbrush language, which you have all come up with together and we'll have a go at decoding certain parts of the image.