Bringing an old one back to life - I picked up this early 20th Century Thayer Chandler Model A mostly because the case was still in decent shape for the age. This is what it looked like when it arrived -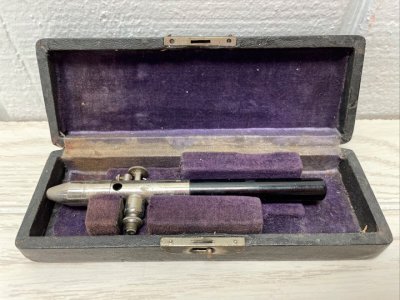 I did some research finding some early print materials that help to potentially date the brush. The two pieces that I found most important were ad's from both 1912, and 1914 publications that illustrated a change in the shape of the back of the handle on the model A. Ad materials were an important means of showing people what the brush was, so they tended to be very current with production. They most likely would not have illustrated something that was not available - These materials (along with others previously seen) help to potentially date this brush to be from between 1900 and 1913.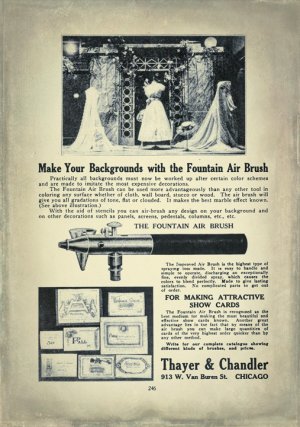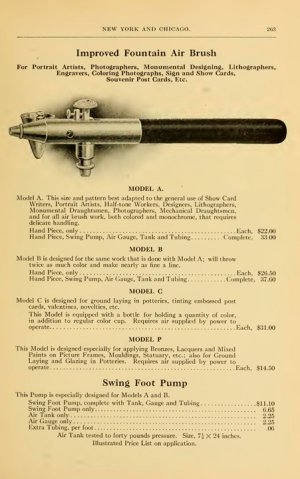 The overall condition of the brush itself was really not horrible considering it to be in the neighborhood of 100 years old. I already have one from the same time period that is in very good condition though. So I decided to try my hand at a complete restoration on this one.
Because I already have a very clean, working example from this time period, with this one in questionable shape by comparison - I decided to take a shot at rejuvenating this one. You can see by the position of the trigger it was non-functioning upon arrival.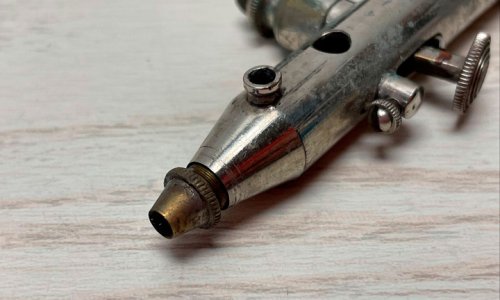 The scratches up front run through the plating, and into the brass base material. The plating itself is etched pretty badly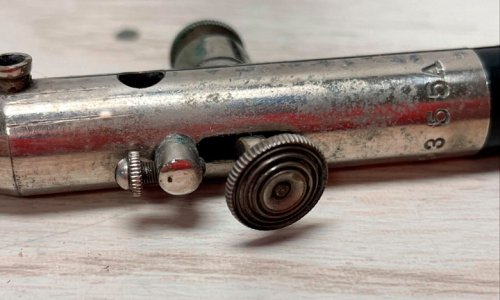 Those spots running along the side of the brush turned out to be a worthy adversary. They turned out to be a filler used before the original plating process. It needed to be completely ground out, and a new filler used to repair the imperfections in the brass. I used a high quality silver solder to fill the voids were the original filler was removed.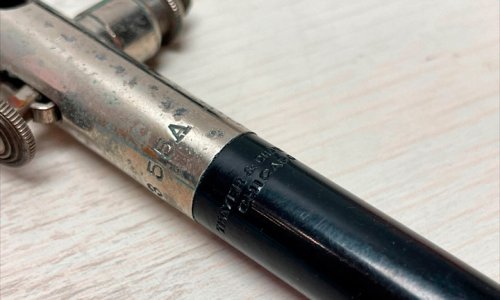 I used a chemical bath to remove the original Nickel plate, returning the brush to the original bare brass state. In addition to the scratches, I also found stress cracks in the belly of the brush, in front of the air valve.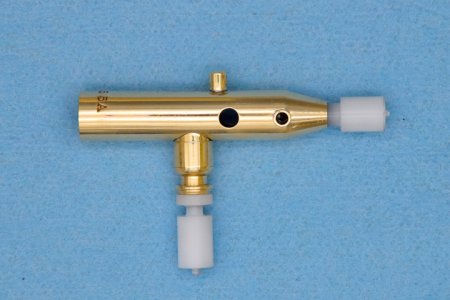 The brush was re-plated first using a copper "strike" coat, followed by a thicker layer of copper. I used several layers of copper to rebuild a good surface for final plating.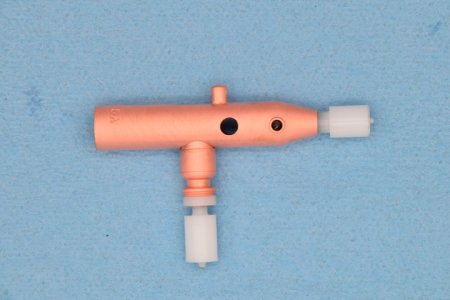 I used both sanding and polishing methods to fill imperfections in the brass base material working to create a good surface to re-plate in Nickel.
Sanding, polishing and re-plating all happened again - until I achieved a surface I was happy with to do the final layers of Nickel Silver.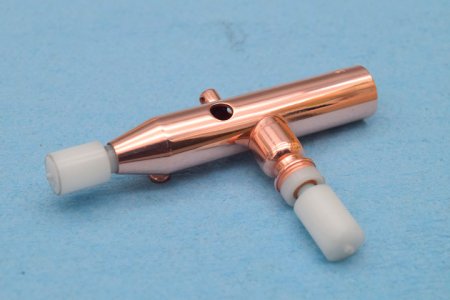 Limits on image upload force me to continue on in a response to this post - so, on to the next window!