I always found my Infinity tempremental and finicky to use compared to my other airbrushes but not any more!
I decided to dedicating some quality time to cracking the infinity code and .... WOW!!!
Played around with some Createx black and different reductions (ended up at 1:1).reduced the air pressure to 10 - 15 psi and voila .... detail that was predictable and controlable. I was able to do things on a scale that I have only been able to dream about until now.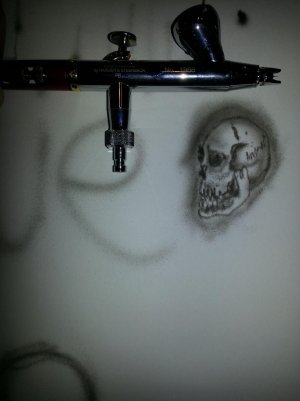 The mini scull was freehand and is about 1.5 inches tall. I just wish you guys and gals could feel how im feeling at the moment it is though i have been shown the light!!
Bring on tomorrow!:triumphant:
Last edited by a moderator: