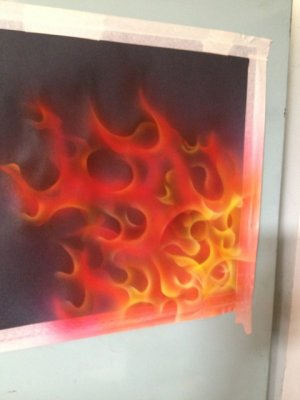 Hey guys got some newbie questions.....so this is my artwork after about 10 hours of trying fire. It's my first real finished piece so I've got some basic questions to ask.
For anyone that interested I used createx white transparent first(prolly should use opaque but ran out and I want to paint NOW!! Haha) then layers of createx red and yellow mixtures in between going over with white again...on about 30ish PSI with a HP-C Iwata
I think I'm improving a lot but find it hard to get the vibe of the fire, like the flowing forced randomness...if that make sense.
I'd like to be able to try without stencils but I'm just not there yet.
So I have some issues, firstly when I'm painting with pretty much any colour sometimes I'm finding that it will sit well on the paper then after a few seconds it will dissipate a bit, sort of like oil and water (it's more noticeable when spraying over the white) and if I let it dry it sort of all bunches up in one area leave the rest of the section without paint, thinking this might be a result of spraying to close with too much paint on a too high psi? Maybe because its going on too wet?
Here's a pict of what I mean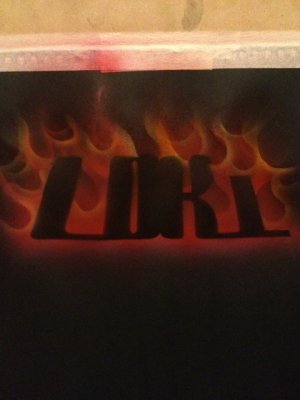 you can see the effect above the "o"
Also if createx is water based why can't I use water to thin it?
Another question what's the difference between the different colours of masking tape? Blue is low tac yellow is stickier...what is green then? What do people use?
Also what thickness paper are people using, those Picts are of 140gsm but it wrinkles a bit...even if i tape it down all round....I might have to up it till 200?
That's about it for now....thanks again for the help guys
Mr Chickens.
Last edited by a moderator: