ok about a month ago I gave up on doing flames because it was becoming a nightmare for me. I realize I wont get the results that others do but since I do not have any Kandies which I'm working on getting, all I have is opaque's and transparents. So I wanted to see what I could achieve out of what I have and so this is the result.... I know the flames stink
the object was to see what I could get out of what I had. I have the idea for flames but tend to let myself get carried away and they get too busy, plus should have used a black background for contrast.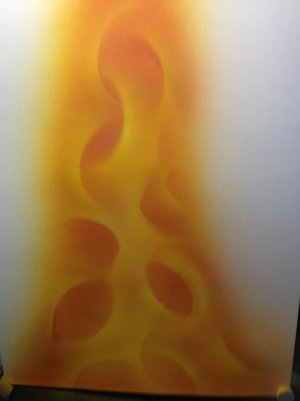 I started with a pinkish base 1st layer, trans. red 2nd layer, a peach color for 3rd layer, then a trans. orange, next was a pale yellow layer and last was a trans. yellow.