My new toy arrived today, the Harder & Steenbeck evolution silverline 2 in 1 with 0.2 and 0.4 nozzles.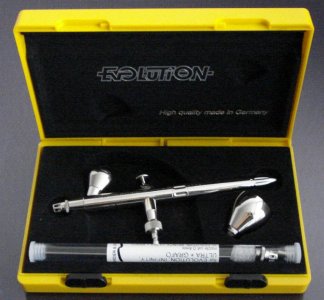 And with I got all this free free stuff.
What I thought was a book, turned out to be a very informative DVD wit lots of info and tips and video, and in the original package there should have been a water trap, but they must have been out at the time, so I got an airbrush holder instead, which is cool cos I ordered 2 water traps last week.
I've had the brush in my hand and now I have to choose from 3 options;
1). Do I actually want to throw paint into such a beautiful thing?, or
2). Do I put it in a frame and hang on the wall over the television where I can always see it?, or
3). Do I send my wife to spare room and sleep with it instead?.
I can't make this decision on my own, so I will let you decide, but before you do ask yourself this question "would I throw a bucket of paint at my new Mercedes", we are all here to help each other so come on guys "HELP"