Hi everyone!
My name is Maria and I am a professional artist living in Sweden. I've been airbrushing for about 35 years at this point (and now I made myself feel ancient). I've been involved with miniature equine collectibles (or model horses, if you prefer) ever since I was a child and I feel in love with airbrushed pieces early on. My ever-so-supportive dad got me an airbrush and some paints for Christmas when I was 11 years old (I think) and I guess I have been airbrushing more or less ever since. I have ended up using Iwatas only - it's not that I'm not interested in other brands but at this point I am familiar with the Iwata quirks and know how to pull them apart completely and fix them whenever the need arises. So I guess sheer convenience is trumping curiosity at this point.
Anyway... one of the main reasons I'm here is because I'm moving away from model horse painting and would like to explore other areas of airbrush art. I have some health issues and chronic pain problems and working with miniatures just isn't possible any more, at least not without a lot of agony (and steady stream of profanity). I'm hoping to find a lot of inspiration here - I'm sure it will feel like being a newbie all over again because I have literally never airbrushed anything but tiny plastic ponies.
I don't have a whole lot of photos of my airbrush work on my laptop, but this is the latest piece anyway. 1:9 scale.
Happy to be here and I hope to make some new friends! Ask away if you want to know anything.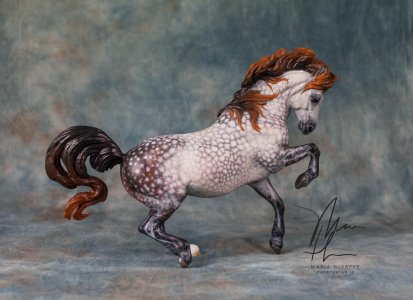 Last edited by a moderator: