Hi, I've been looking around since the start of the week so I thought I should say hi.
I've kinda started airbrushing by accident. I've always loved airbrushed artwork but I never thought it'd be something I'd be able to do. I'm one of those people who love art and the idea of doing it but just don't have the skills. Anyway, I make vinyl decals for a living and was looking for other ideas and found out about sand etching. It looked good so I ordered a little compressor and airbrush kit this week and planned on getting the etching gun next week. I had some paint so I thought I might as well give airbrushing a try.
I'm so glad I did! I think I'm hooked.
I watched the beginners videos and read the tutorials on here so I knew to start off with the basics. I printed off some worksheets and have been doing dots, lines and bad dagger strokes. I'd only managed a few hours of practice but I had the place to myself last night so I jumped in and had a go at that old cliché, a skull.
Considering how little I've used an airbrush I'm pretty pleased. Back to the exercise sheets now though to start learning properly.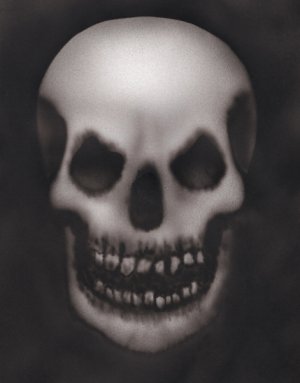 Done with my cheap kit and some watered down regular acrylic paint on printer paper.
Mark
Last edited by a moderator: