The Dragon Hunter
Staff member
Admin
Ok boys and girls,
I started a thread last night that got lost in the transition to the new server, I managed to get several responses before it got blown into cyberspace, but I'd still like a few more responses to the second part of my query.
when I was tidying up the 'hen den' (my garage/workshop for those not in the know) I discovered …….Dun dun duuuun . . . . .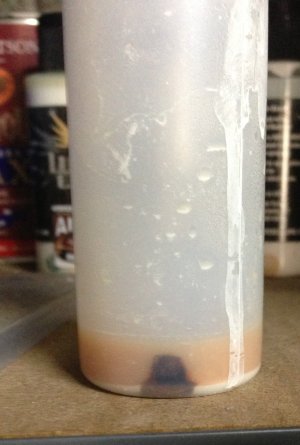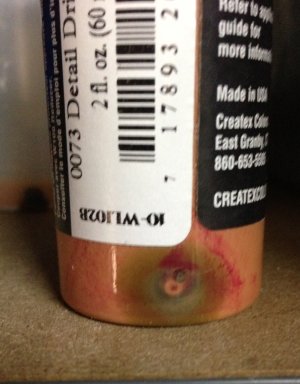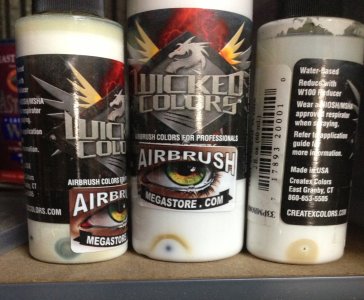 This happened because I placed a ball bearing into the bottles to assist in mixing, as some didn't appear to have any 'rattle' when I shook the bottle (it may be a case of the 'rattle' got stuck in the pigment but I figured one more wont hurt. )
I stupidly didn't stop to think…….. they should have been STAINLESS steel or brass bearings.
I had resigned myself to the fact they were useless and were to be replaced.
anyway………. Rebel Air and a couple of others were very sympathetic to my plight and withheld their laughter and a few suggestions were made:
- use a syringe and remove the majority of the paint into another container, remove offending object, wash bottle and return the paint to the bottle
- in future use something non metalic like ceramic or glass beads, marbles or even small stones from the yard. (for the record I now have a nice collection of about 50 suitably small stones to use)
because I'm scared of little tiny miniscule pieces of rust upsetting my (also virgin) HP Iwata brushes I will resign these paints to my practise sessions with my cheap chinese knock off brushes.
and here is the second part of my query.
because I like to think every cloud has a silver lining, I thought "at least now I have a legitimate reason to buy some 'wicked illustration' paint" and I'd like some opinions on the following question.
with the exception of the black and white what others, if any, should I replace with 'illustration'

I don't plan on doing anything anywhere near the standard of you guys and gals for a few years yet, but I'd like to start doing some scenic backdrops for reptile tanks as practise when I'm about ready to poke myself in the eye with some dots and stab myself with the daggers……

so, what do we all think ?
Last edited: