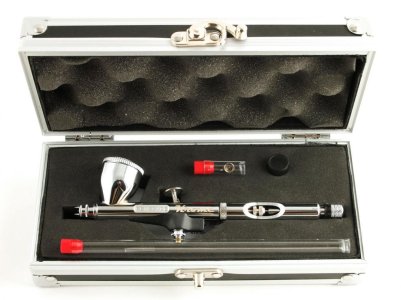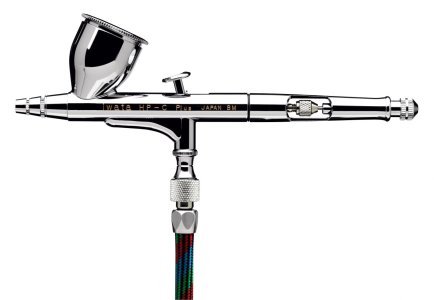 Iwata / Badger airbrushes
I was asked to write a review by a member as I use these airbrushes and he said it would be helpful so here goes……
Airbrushes gravity feed internal mix
Badger Krome with 0.21 fitted / 0.33
left pic
Iwata HP-C plus with 0.2 fitted /
Right pic
normally comes with a 0.3 fitted both airbrushes have 1/3 oz cups there between £135 -£170 (uk) not sure other countries pricing,
I mainly use Auto Air and Wicked which I have to say are awesome paints
Badger - The Krome comes with fine and ultra fine needles, tips, and spray regulators. I got the .21mm ultra fine setup its very well made The word Krome looks like its be laser etched in, The plastic hand rest is comfortable. It can be removed with a set screw on the rear, and also fits other Badger airbrushes. The trigger Is not shiny chrome it has been treated with a special anti-friction finish, and so has the rocker. Badger calls it Glydecoat its like a Teflon coating Trigger action is very smooth. The needle limiter, It limits needle travel it has a numbered collar with a set screw this allows you to calibrate it by tightening the limiter all the way down so the needle can't move, and then adjusting the numbered collar to zero. Be careful if you do this. Its easy to damage the tip from excess pressure. The paint cup has good access for cleaning. this airbrush is fairly weighty and longer than Iwata some people may like this.
Iwata – the HP-C plus I have a .2 fitted which is not standard and does come at a extra cost,it comes with a .3 fitted, it feels very solidly machined, and it's exterior was flawless with the triple plated finish. The action on the handle is decisive and there was no slack to contend with before the needle responded, which was further enhanced at the rear with a preset handle which limits the travel of the needle allowing you to control and maintain continuous paint flow. the paint atomises fantastic and to Strip and clean is simple, spares are easy to get hold off it's a very no-nonsense workhorse, and it came with a 10yr warranty!!
These are both fantastic airbrushes and they both are much more capable of very fine lines an creating artwork far beyond my talents!!!
I tend to favour the Iwata for the way it atomises the paint and easy clean up and its lighter and shorter than the Krome.
This review is only my opinion into these airbrushes which I use, I apologise if this is not the best review I have never written one before!! But just to finish I want to say……..
While good tools are critical to any project, the results you get, as with any tool, are dependant on the abilities of the person holding the tool. Put a cheap airbrush in the hands of an experienced airbrush artist and you will get amazing results. Put the best airbrush made in the hands of someone who has never held one and the results would be very different to say the least.
Hope this helps alittle
Please feel free to abuse my poor review!!!