Ok where do I start. At the beginning I suppose.
Maybe a little background about me?
FYI Any OLD pics I have were taken over the last 20 years as I didn't have access to a camera and smartphones didn't exist Sadly I lost a lot of my artwork that was in books and in folders, don't know what it went.
I started drawing as a kid, playing D&D started me off drawing dungeon layouts for games and the odd pic of a scenario and maybe a creature from the D&D Monster Manual. Nothing special.
The drawing carried on for a good while. I think I was around 14 and I was getting into rock music and rock music LP's have wicked artwork. Roger Dean springs to mind. Space scenes and creatures on covers kept my mind occupied and I use to "replicate" many album covers onto the backs of Denim Jackets for my mates. I did it with a paintbrush and thinned screen printing ink that someone used to get me. I had to make do with what colours turned up and mix my own. I was also the one who was asked to embroider band names on jackets. I remember doing AC/DC, Whitesnake, Van Halen, Rainbow, Deep Purple Magnum, Zofo and Led Zeppelin the four symbols to name a few You never just had one band on your denim.
Sorry no pictures way to far back.
Then I found some fabric paint from an Art shop called Spectrum in Birmingham. I started painting " naughty comedy shirts" for a few people. I will try and find an example.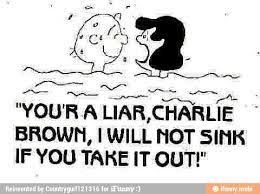 Then was asked to paint some He Man characters on some tees for Mom's friends kids. They were only black outlines with shading but they looked good. That went down well and I got a few pounds back for my efforts. Again no pictures it was way long ago and we couldnt afford cameras unless you were posh.
I was into lettering and fonts so used to write in different styles my favourite being Celtic and Old English, I have a few books on it. I'd paint a pic and add my own fonts.
I found Fighting Fantasy novels and Games Workshop magazine which has some good artwork inside which gave me more ideas for my scribblings at the time.
So from around 1982 I was drawing more and had started to decorate my bedroom wall somewhat.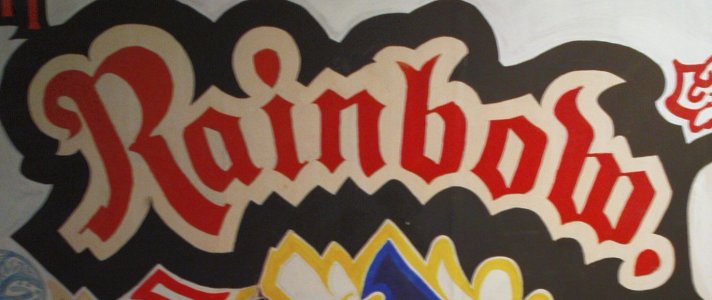 Its about 6 feet across. It saved dad decorating
On from there I kept on drawing creatures and album covers. Left school in 82 & failed Art
Met a group of people local to me who had bikes and became friends. One of them being my Mate Alan who sadly passed away just over a year ago. He was my Airbrush influencer.
1984 late Autumn Alan turns up with Tangerine Dream artwork from the Force Majeure album on his bike tank. I was stunned. I asked him about it and of course back then it was like trying to learn witchcraft, he said can't tell ya, (in the end) he gave in and said come round my garage and I will show you how its done.
After seeing what an airbrush was and what it could do I was hooked. So I had to buy one. Spectrum art shop to the rescue, and I think it was £103 later, "on special offer" I got my Aztek 3000. Ran it off a car tyre for a long while before I got a compressor. That was over a months wages for me at the time.
Remember, No internet back then
No body would give away the secrets of airbrushing. Only magazines and pictures to learn from, no Airbrush paints as per say. Car spray paint (from spray cans) decanted into jars, pots, whatever we could find. Alan being a genius worked it all out from magazines and passed the info to me.
1985 ish to 1987 ? it's very vague
First artwork using airbrush was my Dragon tshirt, copied from one of my previous drawing onto the shirt. It was a mix of hairy stick and airbrush. I had got hold of some Badger Airtex paints for textiles, I still have them and they are liquid, don't think I would risk spraying them though.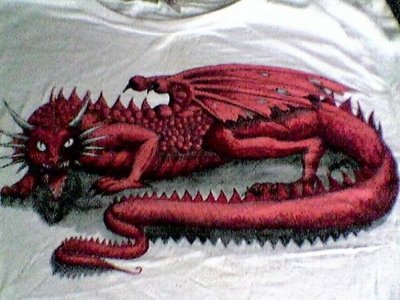 With the guidance of my mate AL I painted a few crash helmets for people, sadly no photos but they were ok. Then influenced by the classic film ALIEN I decided to have a mess about on my old crash helmet as I'd just brought a new one.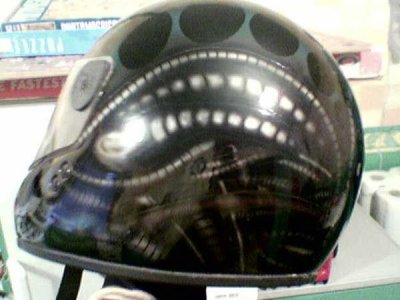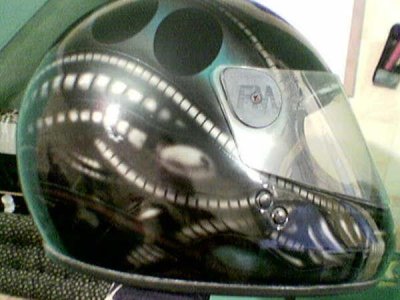 A bit hard to see as its quite shiny, not bad for cheap clear and hand cut and polished but yo get the drift.
Did a few more helmets for friends over the next year or so then had a break for whatever reason, I can't remember exactly. Trained at college as a sign writer, and then vinyl lettering appeared so didn't pursue the trade, Got bigger bikes and got a descent job, girlfriend etc etc Party time!
Still did the odd bit of drawing but can't remember what I did for years probably about 8 of them.
Mid to late 90's I was at home still and met my now wife, after getting a flat I was able to get internet. It was crap. We quickly acquired a huge black cat and brought a house. I finally had some space to spread out again and my Airbrush stuff was sorted out. I needed a lot of practice. Now I had internet I found a forum called wet canvas and met a few folks on there who are great artists. Then found Mike Learns forum which was great, again met some amazing artists, Mike of course, Rod Fuchs, Steve Leahy, Marge Cameron to name a few.
Did a few paintings but I wasn't really happy with them.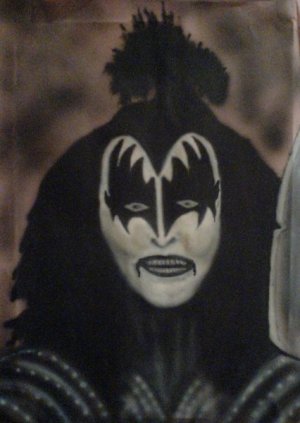 Unfinished dragon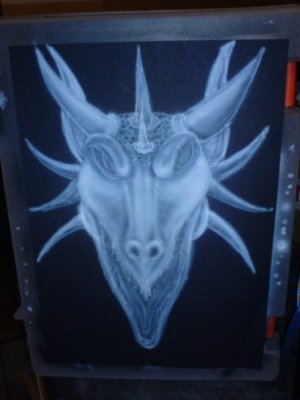 The alien was ok. No reference sketched and painted with Etac private stock I had just
acquired.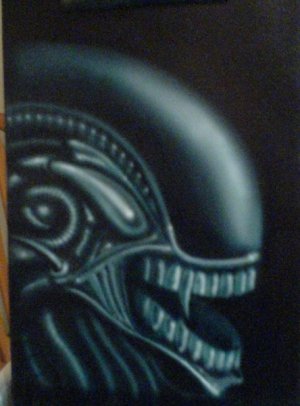 Did a few pics over the next couple of years and in 2004 did this for a panel jam on Learn Airbrush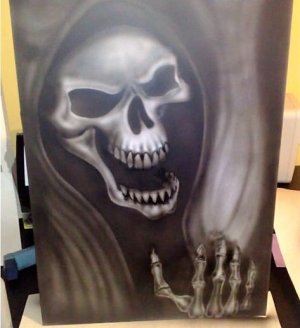 Lost my mom in 2004 and knocked everything on the head, I lost the will to do anything.
This was a bit later on I think possibly around 2007 - 2008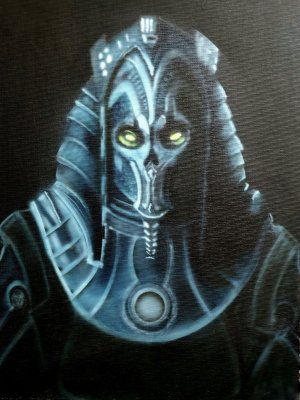 Getting the hang of using masks and shields finally
Didn't do much for a while but kept in touch with the forums and found another forum while browing the internet called The UK Airbrush Forum. A nice bunch of people who welcomed me in. found out there were quite a few people local to me and in 2010 I went to the KKBO This was where I actually met most of the guys and girls I was talking to on the UK AB forum, we had arranged to all meet up there what a fantastic weekend.
I was star struck, Ken from Badger, Nick Smith (fantastic jacket painter) Dennis Matthewson, Dan Power Piers Dowell helmet painter, met a load of great artists from around the UK and across the world, Got me back into airbrushing again properly. Met Mick Neill there and became a good mate. Mike learns site had faded away by then and wet canvas wasn't that busy airbrush wise, then in 2012 saw this funny Aussie bloke on youtube telling you how to airbrush. Then of course I found this wonderful place in August 2012
In 2011 I started teaching my Niece who was at the time 9yrs old, she did well and joined this forum to gain some confidence which she did but since 2016 had to concentrate on school work inc art though, she is great at art.
That's it for part 1
Lee
Last edited: