Airbrushing on a (tight) budget?!
First, I must say that I have some very nice airbrushes

I also have an odd compulsion that I feel I must try everything - so, my collection runs the range from top dollar, to bottom drawer. I also use what I have, or I get rid of them.
I get that not everyone can jump into the game by spending 100's of dollars for the top of the line stuff. So, I thought to try some of the more entry level (or lower) offerings available.
I opted to try a Master G48 (copy of the Iwata Micron CM-B+ with a MAC valve). I do have a pair of Micron's, but I will not compare the Master to the Iwata - they are not in the same class, nor should they be considered to be, by virtue of price alone (Under $40 to over $400

).
I ordered the Master G48 blindly off ebay after searching for the lowest price I could find on it. It took about a week for it to arrive, and came in translucent plastic box with a nice cut out foam, and a tip wrench, as well as a hose connector. Albeit, with a barbed hose end, rather than a male quick connect. I used an Iwata QC fitting I had in my parts drawer. I took the brush out of the box, hooked it up to my air hose, and added a few drops of Createx Illustration color to the cup. The lines it produced looked much like the lines that one would produce with a small diaphragm compressor - in that it looked like it was pulsating. The line width was relatively thin, though. Sorry, I did not take a pict of these - I removed the needle, and found that it has a rather rough texture to it, and feels like it is covered with fine machine marks running in rings down the length of the needle. Knowing (from experience) what kind of paint flow issues this would cause in daily use, this condition would be an excluding factor from my wanting to keep this brush in my arsenal. But, do read on...
Knowing the needle is advertised as .2, I compared it with an Iwata needle from a trusted HP-B+, and they seem to be about the same size, and length, similar taper - so, I installed the Iwata needle. Right away, it was obvious the brush would at least work in this condition. On my scrap paper, I got a series of decently fine lines, and some nice gradient tones using the Illustration color right out of the bottle. At this point, I've seen enough to know I can get this brush to do what I want it to do, so...
At this time, I took the opportunity to tear the brush down, and do some basic prep work that I would do on just about any new brush. I adjusted the needle packing, which was at least a full turn loose, checked the head assembly for air leaks - which were completely eliminated simply by adding a very slight twist to the nozzle cap. I also clipped 2.5 coils off the air valve spring (to lighten trigger push), and was able to adjust the needle spring (without clipping it) to get what turns out to be a very nice trigger feel. I lubed just about everything with K33 airbrush balm (from Foxy Studio). Reassembled, and spent a couple of days pushing paint through the brush.
Considering that I have about $48 invested into the brush, with the Iwata HP-B+ needle, I am quite happy with the results. The brush actually feels pretty good in my hand. Since getting the trigger adjusted more to my liking, I do not find it fatiguing to use. It is by no means a perfect airbrush, nut it works well enough to use. I have zero idea how it will hold up over time, and to be fair, I think I would have to purchase at least one more to see if I could get the same results this one is producing, before feeling 100% confident about recommending this set up - but, so far, I think it may be worth a look if one's budget will not allow for something higher dollar to get started with. I find that even with Iwata needle installed, the spray pattern is a little oblong in shape (taller than wide), but atomization is really quite nice, and even. Pretty sure this is due to the nozzle being a hair off center in the air cap - but color lay down is very nice, and color gradients come out really smooth. The lines produced in the photo's were done with this set up - and while not being the best sample of "hairlines", at least it is continuous - I did it really fast without thinking that I was going to document any of this.
I am going to play with this brush more, and will update with additional info (good or bad) as I have it...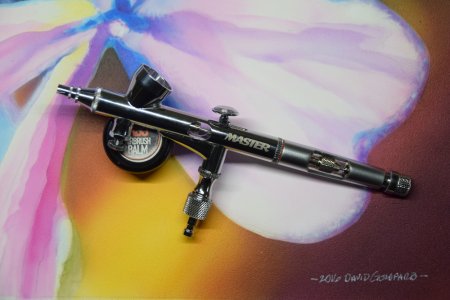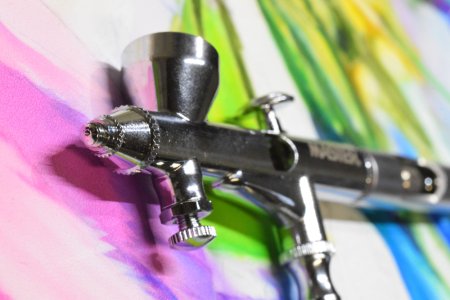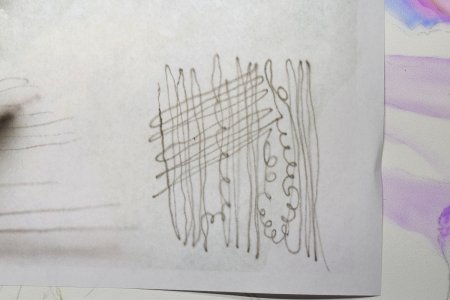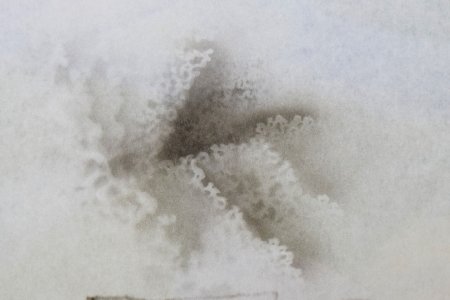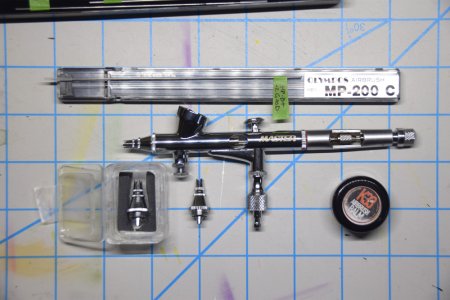 Since I originally posted my initial experience with this particular brush, I have played with it a BUNCH more. I replaced the trigger spring with a softer one, as well as the needle spring, and adjusted the spring guide. The trigger feel on this is amazingly good, with just a tad of slop to deal with, but certainly acceptable.
I also have an extensive parts bin that I can play with ;-) , and have found that both Iwata Micron, and the new Olympos L3 Head assemblies screw right on to the brush, and work very well. I find that I prefer the Iwata head and needle over the Olympos pieces on this particular brush. I also replaced the needle packing with a silicone o-ring seal that I use even in my Micorns, and the feel and response on this brush is really impressive. I find that I have actually been using it a BUNCH in my rotation of brushes.
I also tried testing a larger version of the the brush in a Master G444 (copy of the Iwata CM -C+), but found while branded the same, the actual brush has to be made by a different manufacturer. The head assemblies between the two look the same, but with enough differences that it would make no sense to make them side by side. As well, some of the threads that should have been the same between the two models are not... I tried working with the larger brush, but found I did not get along with it anywhere near as well as the G48, so discarded it. I have ordered the larger model from another source branded with another name (for $20) and am waiting to compare it with this sample of the G48...
Last edited: