I think I am starting to understand what people mean by 'muddy'.
I have had a go at fire - not true fire, more a figurative-based-corporate-aimed-non-realistic-true-fire-styled-rendition of flames. (
)
This is my first 2 goes....I really thought AA candies would 'pop' under a clear.
I cleared it (first time I ever tried that as well) and it just looks like crap.
Obviously as this is my second time at painting fire I need to do heaps more work but I was really annoyed at the lack of lustre.
I don't think Wicked or AA paints will allow 'popping' fire to be done. (yes, i know people have done it...they are pros...I am but a n00b..and would they do a car using water based?)
So, maybe if I want to paint fire, whether it is 'true' or not I need to get some solvent based paint?
And same with the 1K clear. 3 coats and it really done nothing.
Overall quite disappointed but also happy that I actually stopped watching videos and sprayed some paint,
....=)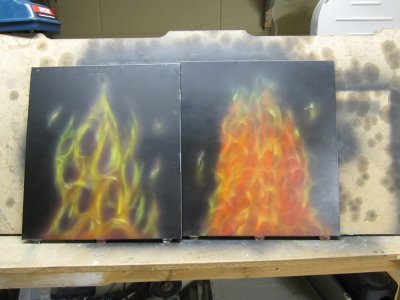 http://www.youtube.com/watch?v=P5s9illHQlc
Last edited by a moderator: