Sheriff Woody (Admington)
Well you jolly bunch of airbrushing fruit loops! , I guessyou would like a little'ol run down on how the Dru Blair course went with Mitch and me last week!
Firstly, let me start by letting those lady fans of Mitch's out there in on the truth, he uses very clever photography and camera trickery in his video's, and he is in real life about 5 stone heavier with a bald patch,glass eye and a gimpy walk…oh and horrendous flatulence!!!!
Ok, moving on, when we arrived it was the usual meet and greet with other fellow students who were all a great bunch of like minded AB'ers, some of them even recognised Mr Tutor man!. Then we went in to meet the man himself, Dru is a very personable guy, willing to chat and answer questions on anything….and yes there was many questions!
So we begin day 1 with colour theory and some little mixing exercises, the theory part you are not expected to absorb all of it, so a good writing pad is essential. Dru takes you through a sort of slide show and generally talks about how light sources work,what to look for and how the eye and mind can play tricks on you when matching colours, and believe me it's an eye opener! I have definitely come away with a new outlook and view on how to break down a subject for painting, all really interesting stuff. He talks in depth about how understanding reflections, refractions and atmospherics can really help you to achieve realism in your artwork. Another very interesting point was what's called the (Etcetera principal) were you only need to add in a certain amount of detail as the viewer's mind will subconsciously fill in the rest of the details (lines stop, thought continues).
We also talked a lot about how colours can shift (blueshift), always exercise restraint when painting, paint what you see, be subtle was one of his many catchphrases. How colours appear to us can depend on the colours surrounding them (simultaneous contrast)and the slides he put on the screen to demonstrate this principal really do mess with your mind, I had never considered this stuff before but I definitely will from now on. All of this may sound like way too much of a brain strain but trust me, understanding this sort of stuff is what really makes a difference between an ok painting and a Dru Blair painting
J
After all the theory we get down to trying to mix some flesh tones, piece of cake…..NOT! We each got a small colour to match(all different to stop copying) and off we went, now here's the thing, you can achieve a 98% match fairly quickly even for a colour theory noob like me…but getting that other 2%...man that is sooooooooo hard, you could spend hours trying. But with practice each time you will get quicker. When we completed that we got to see our reference picture for the days ahead , this one consisted of about 10(I think) different tones( Dru was being easy on us)! And to coin his favourite phrase "so damn easy, right!" So off we go mixing the colours for the portrait, what surprises most is that the small cup of paints that we are mixing up are for the entire class, it always still amazes me how little paint you actually use with an airbrush!. When we have all mixed up our colours and sprayed a small square test card, Dru just for his sadistic fun decides that it's time to play "the dot of death"!!!!!!!!! He basically took each card and put a rather nasty blob smack bang in the middle, it was then our job to correct it and cover up this little blob of death! He went through the process which was not as obvious as you think and left us to it.
Ok, enough waffle and I guess you would like to see someprogress pics!
So we all had a high quality reference pic(essential), a print out for cutting as a mask and of course our board to paint on.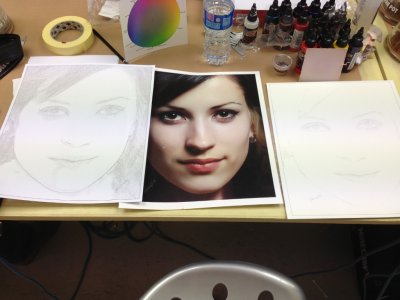 Now we cut out the important shapes, eyes, nose,lips(t-zone)ready for blocking in, also not cutting out completely as to fold back and cover when needed.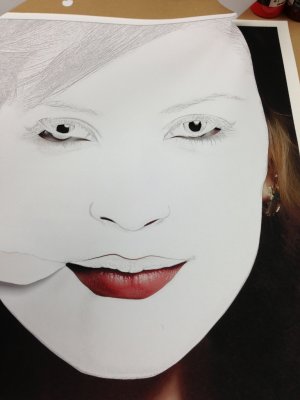 Next we start blocking in the shapes and hair, I think we used Sepia and Black for this, we also went in with a scalpel and began to remove highlights from the top of the hair.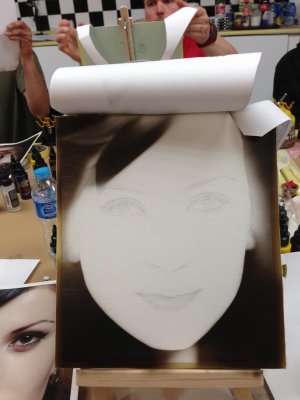 Blocking in and working some more on the hair, eyes and defining the shape of the nose and shadows around the mouth.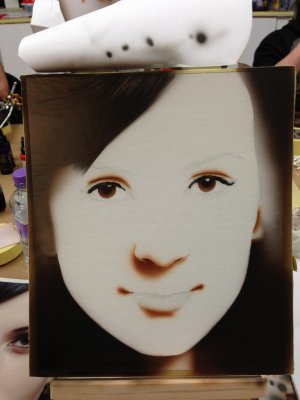 Now we are beginning to lay down some of those flesh tones we lovingly prepared, and removing again with a scalpel and eraser the spectral highlights on the nose and forehead(subtlety is the key)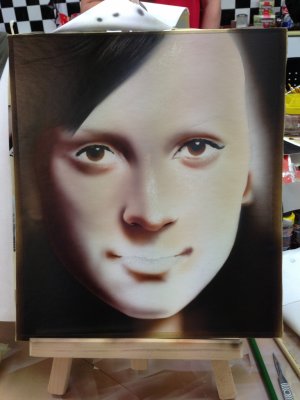 Now we spend some time on the lips, I think we used about three different colours here and plenty of scratching out spectral highlights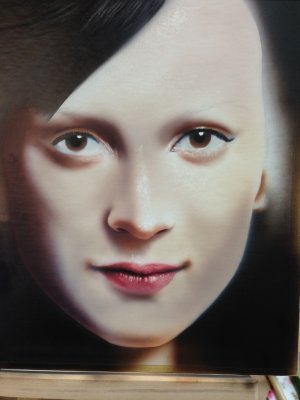 And there we have it….well almost, you see it's not completely finished and I could spend more time going back, but we ran out of time and to be honest I was exhausted, they were all very long days and hard work, I do intend to finish this, but it was the fear of completely stuffing this up that made me stop when I did!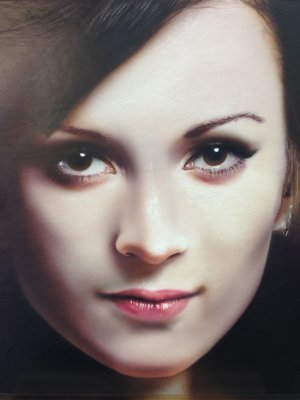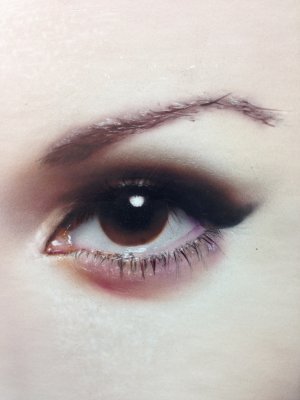 Hard work it was but very much worth it, I have learnt so much on this course and had a great time and experience with great people, not to mention me and Mitch got to do this course together and had a great laugh in the mean time
J
Also I should add that we used the Createx illustration paints which are very impressive indeed, and all done straight from the bottle(except when we mixed the flesh tones)
I know these types of courses are not cheap, but what you can gain from them will push you forward as an artist in so many positive ways. Dru is an outstanding guy, always willing to talk and offer advice, and we could have sat in the pub chatting for hours, there is not much this man has not seen or knows in the world of airbrushing, he is a guru. So if you ever get the opportunity to take one of his classes, do not hesitate, you cannot loose.
I must also give a mention to Mick Neill who was our host and runs The Custom Paint Studios.
http://www.custompaintsupplies.co.uk/index.asp
He is a fantastic artist in his own right not to mention a right diamond geezer and if you ever need any airbrush supplies in the Uk or abroad then this is your man
J
Thanks all and I hope you enjoyed this little write up
J
Kev(cordyk)
Last edited: