Hey everyone, here's one of the many saws I've been doing. Thought I would do a tutorial on this one. Hopefully it will turn out okay when Im done. Im doing this for a local Chamber of Commerce for them to auction off and hopefully make some money to keep their doors open. I told them I would donate it to their cause but they insisted on paying me, so we'll see if it will help them any. They just said they wanted an Indian,
, so the rest is up to me. Will definitely be adding an Eagle in the mix among several other things.
Materials: Airbrush-Badger Krome
Paint-Etac Private Stock (Paynes Gray), ETAC AG Modifier
Reduced with water
Freehand sheilds including: Blue shop towel torn in half,
- Cheap Bristled brush (china, yellow bristles wooden handle)
Airbrushed at 15psi
Step 1: Sketch
Normally I would have all the sketches for the project done first but with 2 days notice I havent really had much time to put any thought into it yet,
. So I will be sketching again once I finish the Indian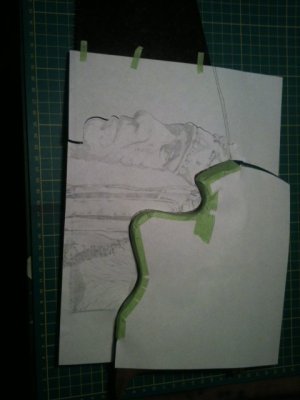 I cut the sketch so that the negative piece will cover the handle of the saw, using painters tape or automotive tape I tape the sheild over the handle.
Step 2: Cut the outline of the face and spray the white base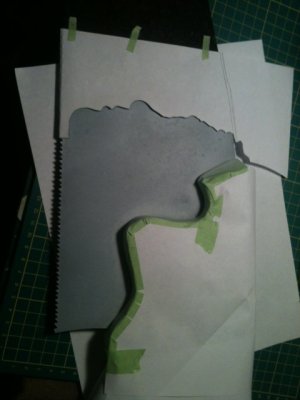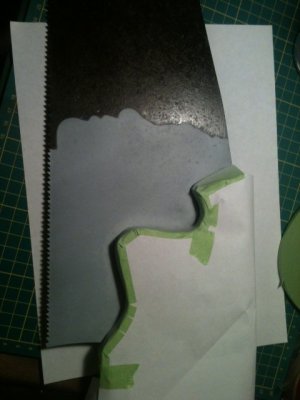 Do the white base in several light layers. Theres about 7-8 layers here, light coats so the waterbased paints cures evenly. If youre using solvent based its not as detrimental.
Step 3: Xacto your sketch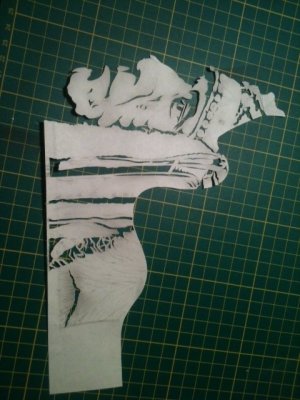 Here you can see I took my sketch and with an xacto knife, I cut out all the darkest sections of the sketch
Last edited by a moderator: