I received two new airbrushes in the mail yesterday.
The first is a Harder & Steenbeck Colani. I bought this brush for doing large backgrounds where I need to lay in a lot of paint evenly and quickly.
After having used the Colani, I can't say I have any complaints with it. Like all Harder & Steenbeck products, the quality and craftsmanship are excellent. The ergonomics are amazing and it's really easy to use. Bonus points to H&S for including needles with a mirror finish which reduces tip buildup and improves performance. I also like the fact that the fluid channel is kept separate from the rest of the airbrush mechanism, which reduces dragging paint through the gun when I have to remove or change a needle. it is also easy to change out the needle packing with the provided wrench, as well as use the same wrench to switch the trigger over for left-handed users (it is offset from the AB centerline). Speaking of which, the Colani is highly adjustable. You can alter the length of trigger pull before you get paint using the same wrench and the needle tension by removing the palm strap handle and adjusting the needle spring tension. You can also just the size and feel the brush in the hands using included metal spacers, which may make it more comfortable with four people with larger hands to hold the Colani.
I bought mine with the 0.8 mm nozzle and an additional 1.2 mm nozzle and needle set for it as well as a 50 mL color cup. Those big bore nozzles go through paint like crap through a goose. That brush will very quickly drain the included 15 mL metal color cup. Now that I'm scaling up to 20" x 30" paintings and beyond, it's a great choice and offers detail spray gun performance in an airbrush. That being said, you can also buy nozzle and needle sets all the way down to zero. 2 mm, allowing your Colani to spray hairlines. Another advantage to the Colani over spray guns is that I can still use the Colani with my Olympos Clean Pot for color changes, though I have to replace the filter often when cleaning the Colani with it as the volumetric flow rate is so high that it can saturate the filter if I don't. The pistol grip, trigger pad and palm strap handle or nice, the one gripe I have about them is that H&S could stand to do a better job trimming and finishing the mold lines of these plastic parts before shipping. All in all, the Colani is an excellent airbrush and meets all of my expectations for its intended use.
The second one I got was a ostensibly new in box Toricon-Homi Y-3 Dash. I suspect it was a late 80s - early 90s production run brush. There aren't many left, and this is a unique find.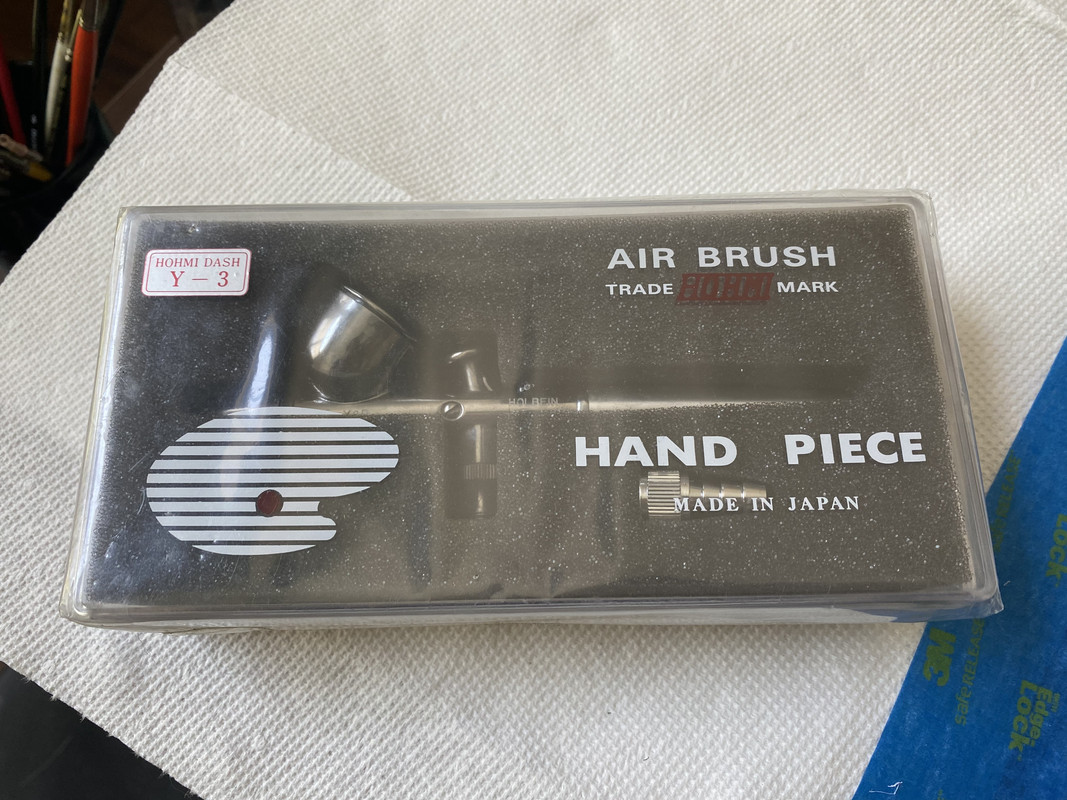 First impressions about this thing are that it is built like a freaking tank compared to my more delicate Iwata and Olympos airbrushes. It's a sturdy, hardcore piece of machinery. My other impression is that the finish, machining, and attention to detail are not nearly as nice is my Iwata and Olympos guns. It's extremely rough and unpolished. The inside of the color cup looks like it was just removed off the endmill it was made on, without any kind of deburring and finishing work done on it. The needle spring is STIFF and it takes a lot of force to draw the trigger back - I wonder if I can find a lighter needle spring for that brush these days. No matter. And well the needle has an excellent taper to it there appears to be no attempt to polish it either. It still has the machining marks on it. The air pressure at the nozzle is adjustable by simply turning the needle cap, but this does not function totally like a MAC valve as I thought it would. Rather it allows the artist to control the atomization on the fly i.e. go from a soft vignette spray pattern to spattering or stippling with a wide range of variations in between.
Once I cleaned it and attempted to test spray it using some Magenta Gouache, the brush's spray pattern was rhythmically pulsing when spraying paint. I suspect there's some kind of leak or some other kind of deviation and I will continue to troubleshoot. Still this is kind of disappointing as I've heard a lot of accolades about the Toricon Homi Y-series before I got my hands on one.
Last edited: