Hi,

My xmas present was an Airbrush compressor and two airbrushes, so just tipping my toes in the water at the moment.

I saw somewhere else you weren't an official member until you posted the 'Eye' picture


So (don't laugh) is my first attempt at the Eye..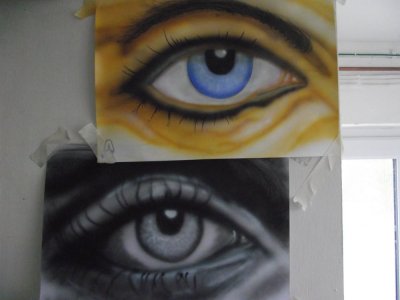 Soooo easy to go to dark too quick, typical new user mistake I know realise, but enjoying every minute. The xmas present was a
[h=1]
KMS Airbrush Kit AS186 AS 186 with Compressor with Tank with 2 x Double Action Airbrushes and Hose.. one gravity feed an the other a suction feed.
[/h]

Bit confused about the different paints, i.e opaque, transparent, pearl etc . The kit came with ComArt Opaque so that what I have started with. I don't expect the airbrushes are of a high quality as they are part of a kit, but are both double action, with 0.35 needles and seem to work fine
Last edited: