Hey everyone, here's a shotgun I had started some time back and put on the backburner. Theres been a few ask me about my process so here it is. I had an idea of what I wanted, but didn't really have it dialed in until I put the first paint on the spine and then it all started coming to me of how I would apply the certain steps to get the outcome I was looking for. Im sure there's quicker ways to do some, or all of what Im about to show you but this is just the way it struck me to do it. I didn't get all the pics taken at the first that I should have but hopefully I can explain it good enough for you to understand it as its only one or two pics I missed! Here goes:
Equipment Used:
- Paints:
Wicked Detail White
Wicked Black
Wicked 4011 Reducer
Etac Golden Ocher PSTR 103 (Private Stock)
Etac Burnt Umber PSTR 115 (Private Stock)
- Airbrushes:
Badger Krome 2n1
Iwata Custom Micron CM-C+ (for white highlights)
- Compressor:
Paasche D-3000-50
- Tools & Materials:
Xacto knife
Pencils/Pens
Cutting Mat
Paper Towels
1/4" 3M automotive tape
- Masking/Stencils:
PF-1200 Material Backing (HeatPressNation, online)
Cardstock (WalMart)
Mini Fire Set (Airsick Stencils)
NOTES:
I will do an entire tutorial on breaking the shotgun down and prepping it, it would have taken up too much room in this tutorial. Its not that hard, just a lot of pics for the breakdown of the shotgun and reassembly.
Step 1: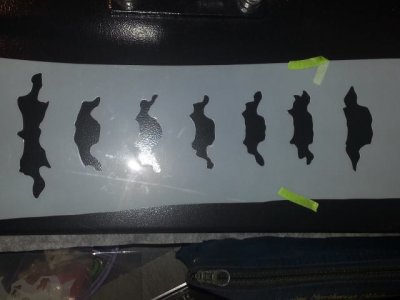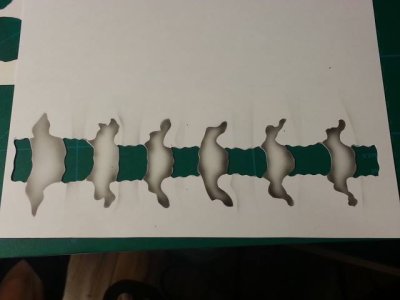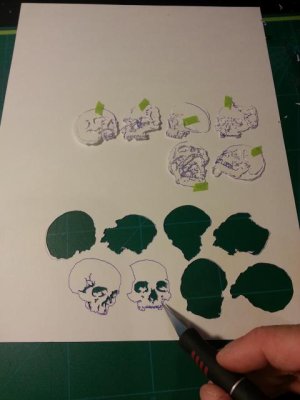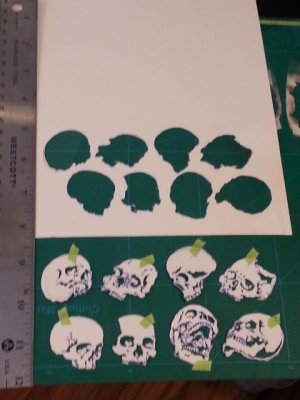 Plan out your project before you start (or as in my case, have a general idea of what you want to do,
, it didn't hit me completely until I started painting). Sketch out your designs or draw them up on the computer and print them or print references off the internet. Using my Xacto knife I cut out my stencils. The spine I just cut out the outline (substrate: PF-1200 Carrier sheet from heatpressnation dot com). The skulls are cut out of card stock. I drew them in Inkscape and was going to cut them out of my carrier sheet but had some issues with adjusting my down force on my plotter so I used the ink pen on my plotter to draw the skulls for me then I cut them out by hand (make sure to cut all your small pieces out first, eyes, nose, etc...then cut the outline out on these small stencils otherwise if you do the outline first you'll fight to hang on to it to cut the lil' pieces out.
Step 2: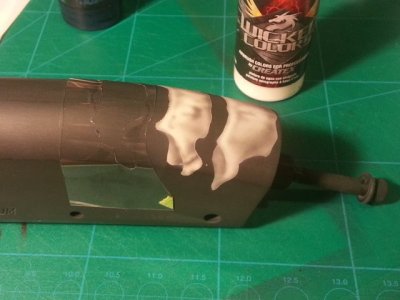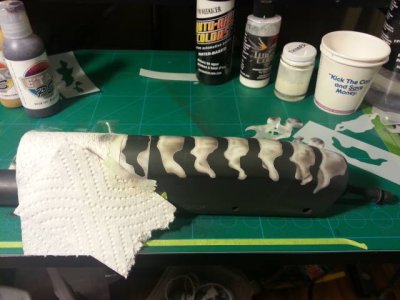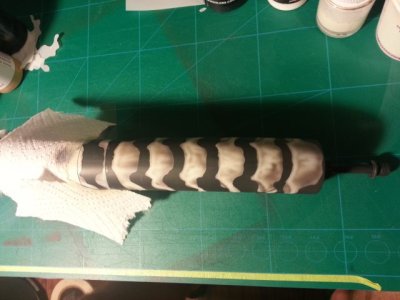 Now that the stencils are ready, I mix my paints for the bone color. I used Wicked white (reduced 1 part paint to 1 part reducer) and I used a 1oz siphon feed glass jar to mix it in to give you an idea of how much I mixed, the mixture filled a 1/4 of the glass. I then setup my Krome gravity feed airbrushes, filled one of them about an 1/8th of the way with the reduced white. I used the PF-1200 backing as my stencil/masking (it has an adhesive back and is clear, you can see it in the first pic), I place it where I want it, then using 1/4" automotive tape and paper towels I made 4 small shields that I could tape around the stencil to keep overspray down. I then lay down the white paint for the bone. In my other airbrush, I fill it about 1/8th full and add 6 drops of Etac Golden Ochre and 4 drops Burnt Umber, then add 10 -15 drops reducer once again to thin it down even more. You may have to reduce more or less depending on your setup and your airbrush.
When Im spraying the white base down, I use about 20psi. When I am spraying the details with the white, Golden Ochre and Burnt Umber, Im spraying around 8-10 psi, this too will vary some depending on where your sweet spot is for fine detailing. So after you spray the white base in thin layers (very important with waterbased paints) then get your darker mix and start detailing the bones.... Get online and find some references for shadows and textures, will help you a lot and take a lot of the guess work out of it. Once the details are done, move on to the next bone.
Last edited by a moderator: