Hello,
[Chapter I: intro in James Earl Jones voice] For years, I've been roaming the streets looking for victims that may need help (like Batman?). Only that the victims I search are cameras. I've rescued and restored dozens of cameras from the clutches of neglect and abandon.
Not surprisingly, I have recently expanded the scope to include airbrushes. Can't stand a suffering airbrush.
A few days ago I spotted this abused puppy and quickly went into action!
WARNING: Images may be disturbing.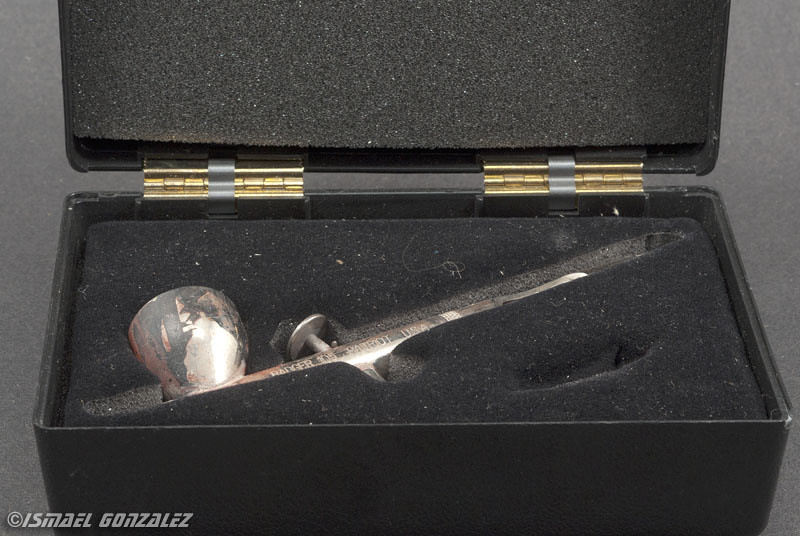 Frozen solid. Nothing moves!
Did not know they were using clay pots now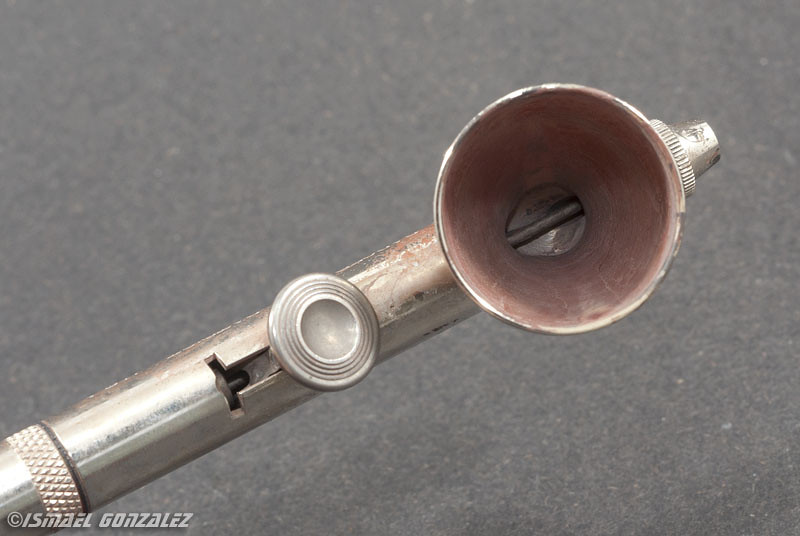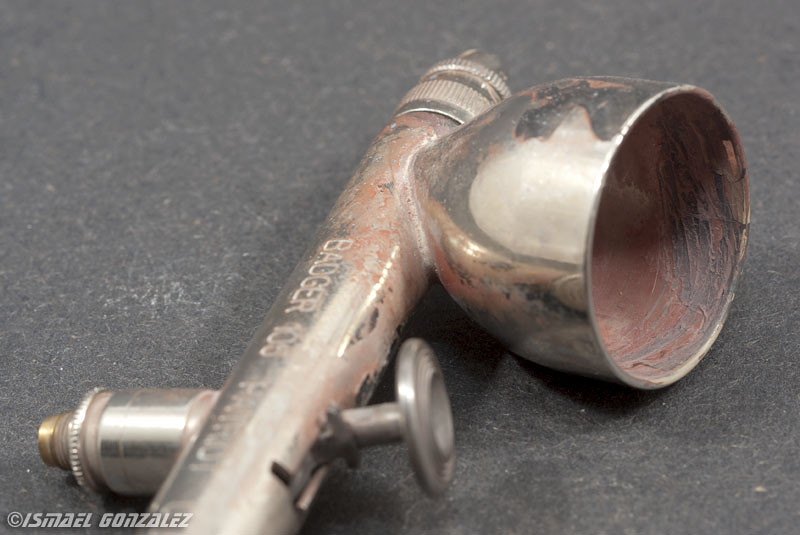 The needle had to be carefully re-worked in place to get it straight enough so it could be safely removed before continuing working on it.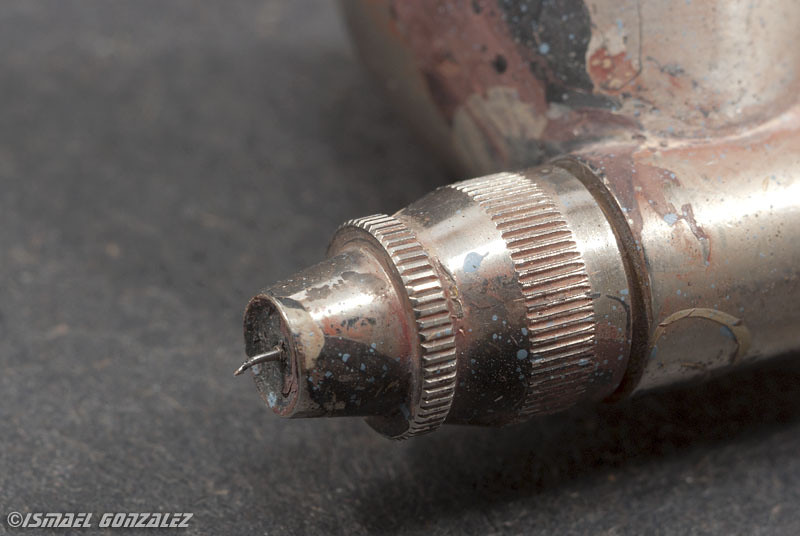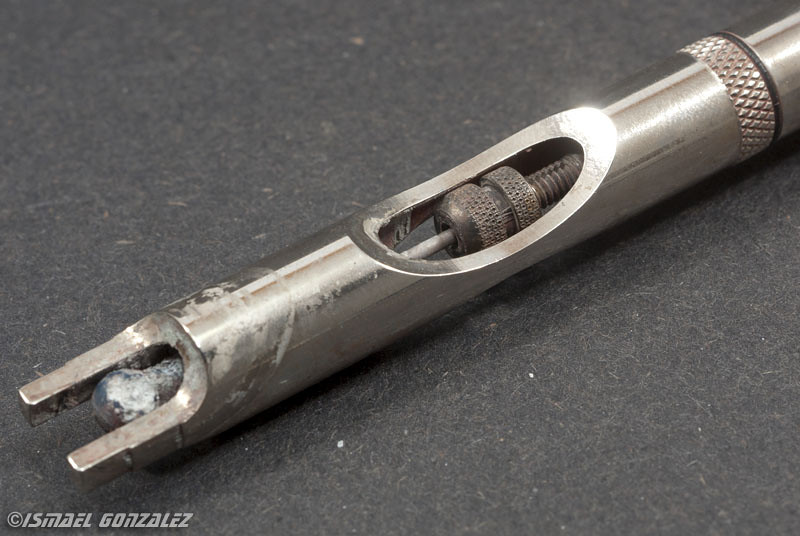 Pliers, force and splashes of lacquer thinner were required to submit it to obedience.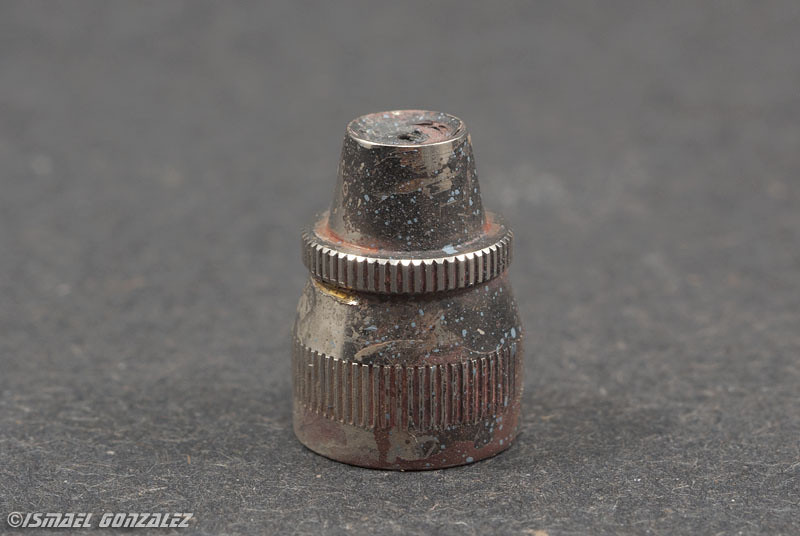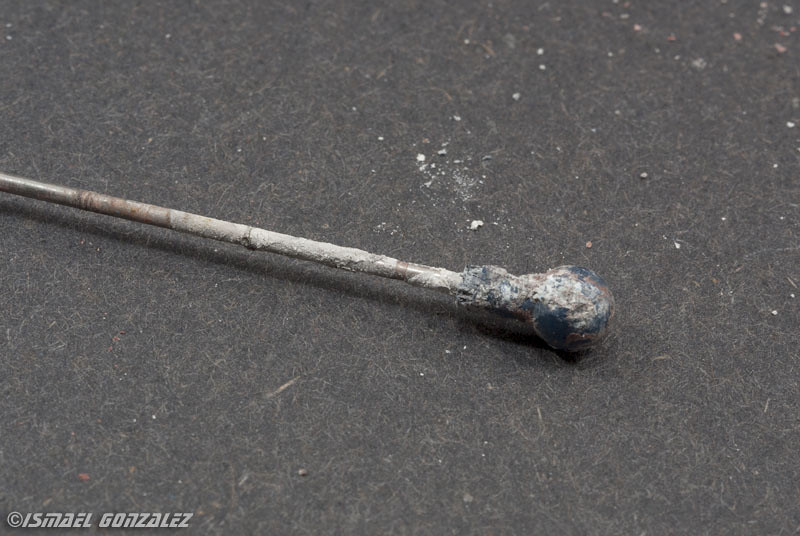 Shh, Shh, easy now. Relax. You are safe now. You are safe...
Chapter II:
Badger 105 Patriot
Badger eventually found success after a somewhat slow start in the mid 60s. Always looking for ways to improve the products and listening to the customer's feedback, innovation has always been part of the business. By the late 90's several patents are submitted and awarded. Among these, there were patents on a quick release system for the needle, advances in nozzle and needle designs among others. In the early 2000's, Badger released the 155 Anthem airbrush with many of these improvements. The 155 Anthem is a siphon feed design. Shortly after, Badger released the Gravity feed version of the design and called it the Badger 105 Patriot. This family of airbrushes feature self centering nozzles and the needle design allow for a wide range of applications without the need to change setups among other features like quick needle release, etc. These models are part of the Pro-Production series, oriented to professional use as well as hobbyists.
The Patriot has become one of the most popular models in the Badger's lineup. Eventually, Badger also released a smaller cup version of the Patriot, called the Arrow. There is also an Xtreme series version of the Patriot: the XTREME Patriot 105 which features a high roller trigger, PAC valve, a unique tip and is finished in Accuracote dark ice body coating.
Another feature of the Patriot (and many other Badger models) is the "glide coat" finish on the trigger and rocker arm to reduce friction.
Chapter III:
Rescue and Revival
After finally able to disassemble the airbrush, not surprisingly, long hours were spent cleaning every part. The needle was straighten to the best of my abilities. Even the trigger spring was dirty with paint dust and residue. The needle handle ball (which is in rough shape) is blue, indicating a "Fine" setup. The Regulator is also marked "F".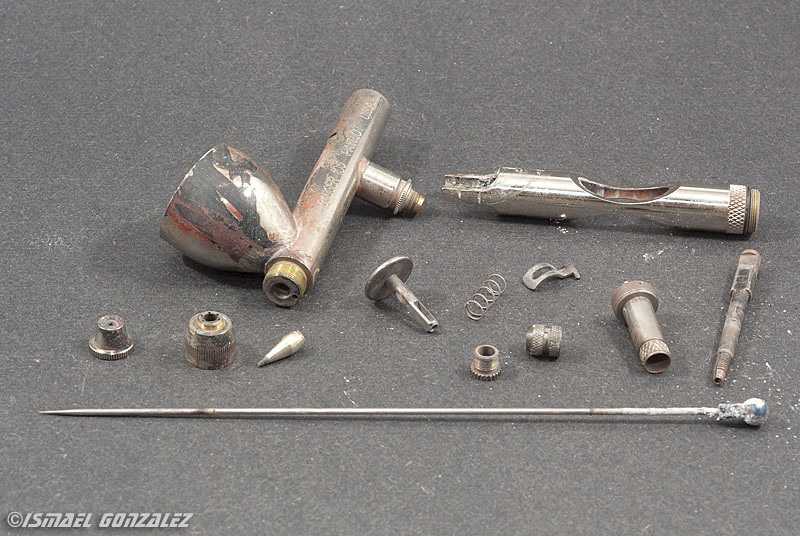 A few days later: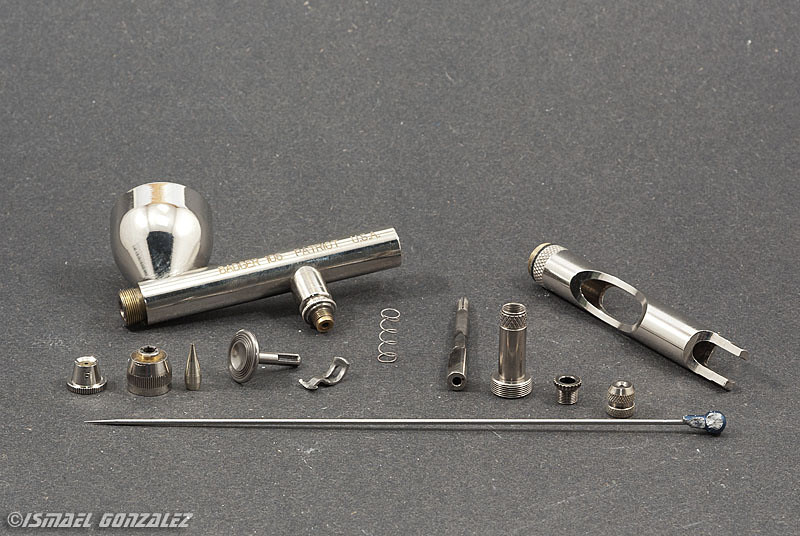 There are scratches and some blemishes indicating a rough past. If only it could talk!
Chapter IV:
Public Reveal
May I present my "new" Badger 105 Patriot!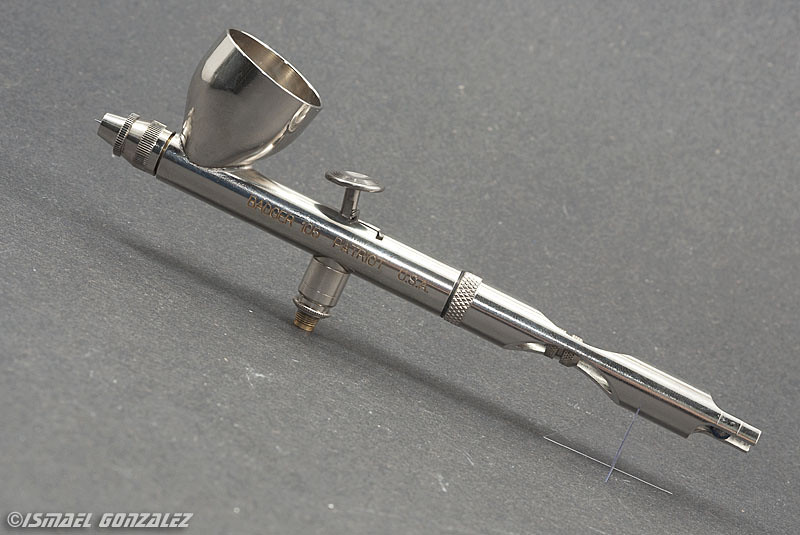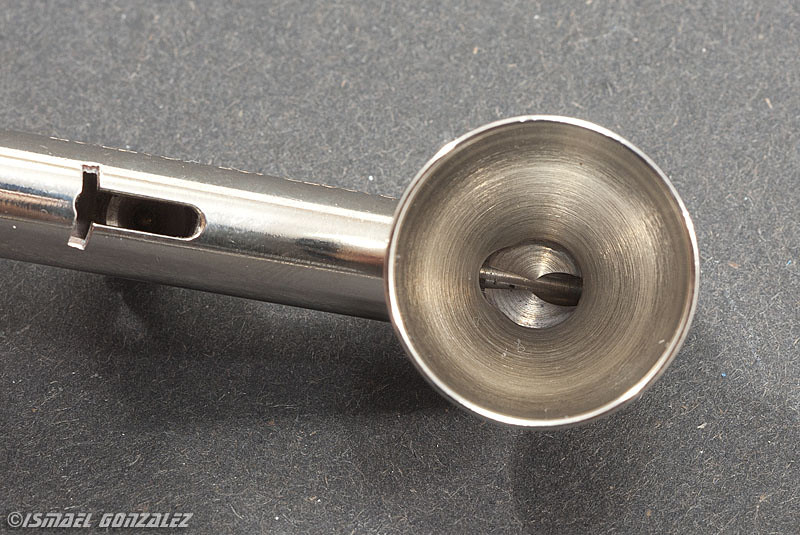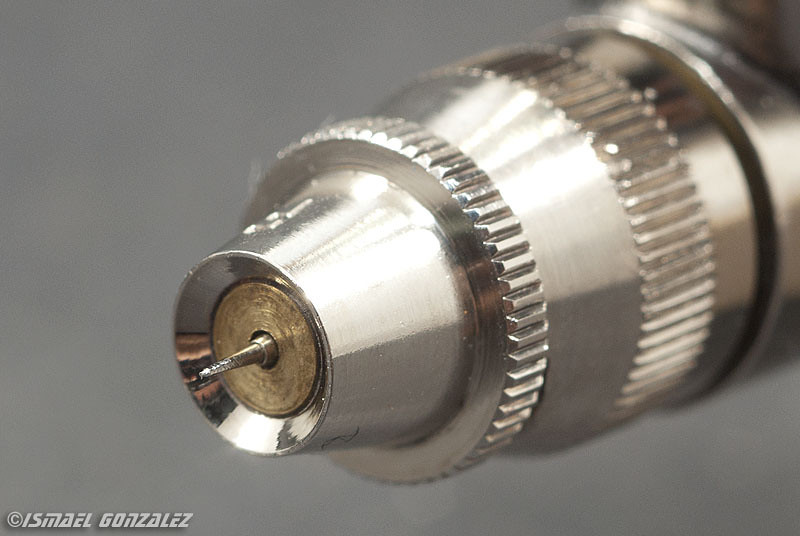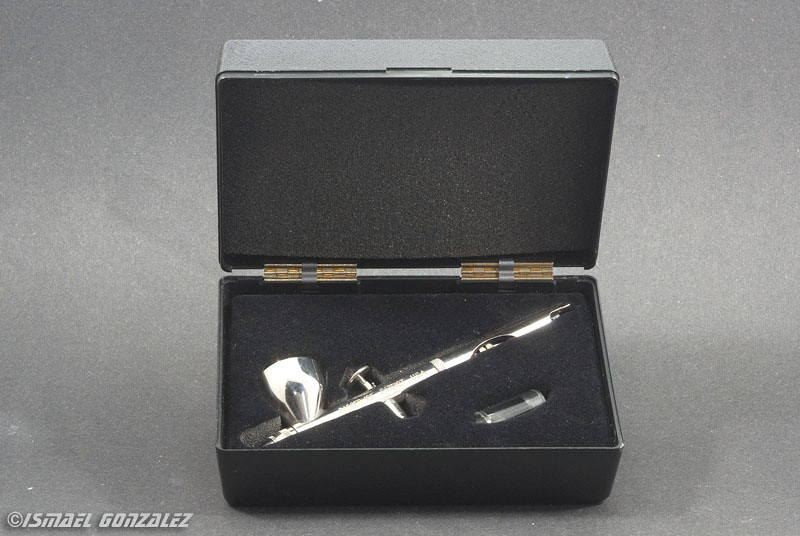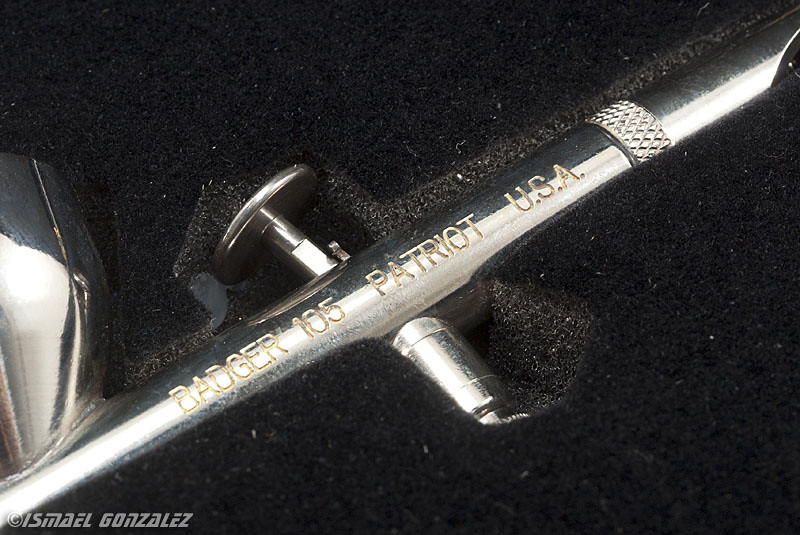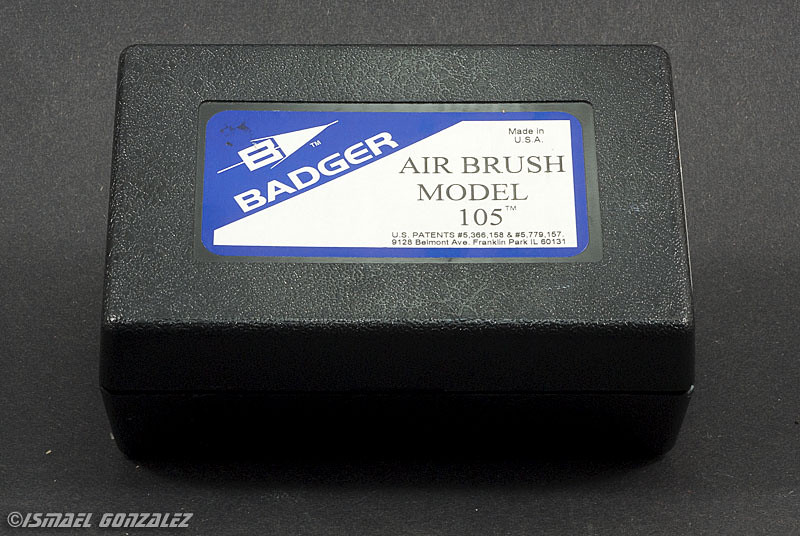 Pretty! But, does it work?
Spoiler alert: It does beautifully! I'm in love!
I hope you approve this adventure. As always, your comments and questions are appreciated.
Thanks,
Ismael