Needle chucking Ninja
Staff member
Admin
Mod
Why didn't I found this sooner... Each tutorial I watched or bought there was plenty of talking about dagger strokes and the usually stuff which beginner needs to learn. I was patience and I was doing bloody dagger strokes which are boring as hell. I almost rolled with my eyes when I was walking to my easel preparing my self to have another dagger stroke practise.
Stencil works is easy, so I will not waste your time. You make a stencil, you spray and you are done. But without stencils is a different thing
Bloody dagger strokes, dots and blends. I made so many of those , that I went one day to store and bought 500sheets of a3 paper so I will have enough for practising those. And they are booooooring...
So few days ago I was browsing this forum and looking at topics and all the knowledge forum members are willingly sharing about all stuff in airbrush world. And by accident I found post from
Robbyrockett2 where he mentioned using color books for practise. I was thinking about that and went and print cars 3 picture, I put 30% grey and went to practise. Damn that was quite fun! And it was first, more like test. The next day I made the same with Dead pool and had a blast with it. I enjoyed practise, even if I had hard time with it. But I enjoy it. And today I am going to do spiderman!

This is so much fun. I really had enough of those dagger bloody strokes and I enjoy doing color books. So bottom line, thanks Robbyrocket for best advice, which was not meant to me. But still, this is probably the best advice for noobs and their motivation.

Here is a picture of my ugly dead pool, I know it is bad, I am realistic, but I enjoyed while I was doing it. It so ugly ,that I was thinking not to post it, but what the hell. If some noob see how ugly is, maybe he will feel better with his work
The next dead pool will be better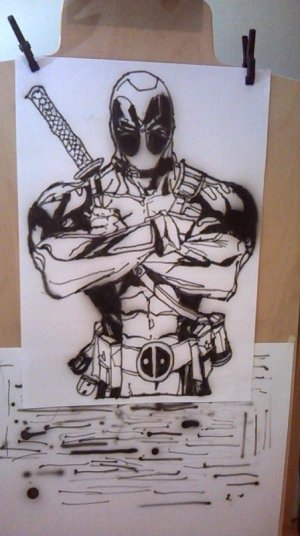 Last edited: