Prefix
So I've been wanting to airbrush for about a year now maybe. I work on cruise ships during tourist season and my grand scheme here is to hustle tee-shirts to the tourist at the ports we go to. I finally ordered this kit on a whim about a week ago
KIT
. Having watched hours upon hours upon hours of youtube videos on all types of airbrushing I was confident that I was going to hit the ground running and start banging out daggers strokes and shading as soon as I had the thing plugged in..... LOL
Chapter 1. The Trails and Tribulations of the Airbrush Newb.

WARNING : The following contains bitchy whining

Act 1
. Go to screw in my water trap / regulator. Done. Wait. Why is it upside down ? How is water going to filter if the excrement is fighting gravity ? I taped the male threads like it said. There is nothing on google about this problem and I did everything the instructions said... **** it I'll worry about it later. I want to shoot paint.
(Was actually solved later on by putting like 15 times the amount of tape on the screw thread that I had already put so it stayed snug without having to screw all the way. Thanks to suggestion from the compressor forum.)
Act 2.
Pour some paint into the cup and lets shoot some paint ! Yaaayyy.... Why wont it shoot ? Damn I thought 25 was the suggested psi but lets crank it to 40. Still nothing. Why is the paint only going half way up the tube. I never see anyone ad water to paint online but **** it I want to shoot paint now. Add water and success. My paper towel now has some dismal, dish water black color on it.
Act 3.
Wow time for work already. I'd better shoot some cleaner through my brush now like I see on videos. But wait. The only feed cup that comes with the kit is currently filled with black paint. Wait I can currently shoot 1 color at time without taking it to the sink and washing it out ? How the well am I going to get anything done until I get more paint cups ? They couldn't at least hook a brotha up with at least 3 or 4 to start with ? 12 bottles of paint and 1 cup how much sense does th....**** I'm late for work.
Act 4.
Ok. Done with work. I'm going to practice some red lines going from thinnest to largest. I'll just pull the trigger back smallest possible amount. Hmmm no paint . Pull more and more until it's nearly 40% back then an a faded and fuzzy looking line comes out. Where are all the beautiful, bold, and sharp lines that I have been seeing on youtube. The lines on the shirt I bought at the air brush place at the mall are twice as thin as mine but are still bright and clear enough that they even have dagger strokes at the end of them And I know he has siphon feed like me. My thinnest line looks like someone let a drop of cool aid dribble down their shirt.How am I ever going to create texture when this is the smallest I can go? I thought the eclipse was one of the best brushes.
Act 5.
So whatever. I'm just going to pull out an old white tee and scribble some doodles and letters and have some fun. Go at the shirt for about 15 minutes starting to get used to this gun. This is fun. I think I'll mess with different PSIs on the compressor for experimentation. Damn this this has been running the entire time hasn't it ? I thought the tank was supposed to keep it from going non stop all the time. Wow it's hot as hell too. It's only been 15 minutes of use. How is this thing going to survived making tee shirts for a few hours straight in 90 degree heat ?
Act 6.
What the hell is this thing for ?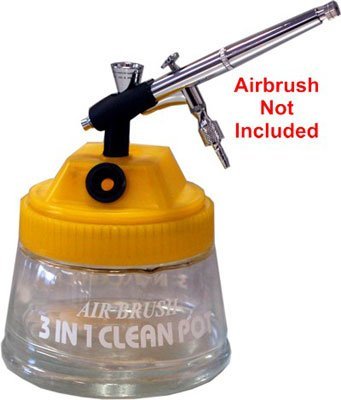 It comes with no instructions and from what I can see it's only purpose is to shoot excess paint and cleaner from the brush. Why bother when you can just use a paper towel or scrap paper. That's like having a glass jar to catch and save your ejaculations instead of just throwing it out.
Epilogue.
So there you have it. My first day of airbrushing. Please understand that I'm expecting answers to this problems or even to be taken seriously(Although any help or adivice is GREATLY appreciated.) This is just a recap of what has been running thought my head today. I plan to continue to pursue my dreams of selling cheap tee-shirts to tourists as treasured souvenirs. This is only the beginning of a long training and practice. I'm hoping that entering this piece into the world stage that is the internet will be another step forward in what I'm trying to do. Be sure to be on the look our my up and coming memoirs.
Last edited by a moderator: